San Diego police have been handing out citations to scooter riders on the boardwalk for not wearing helmets, speeding and double riding. Check out the photos here.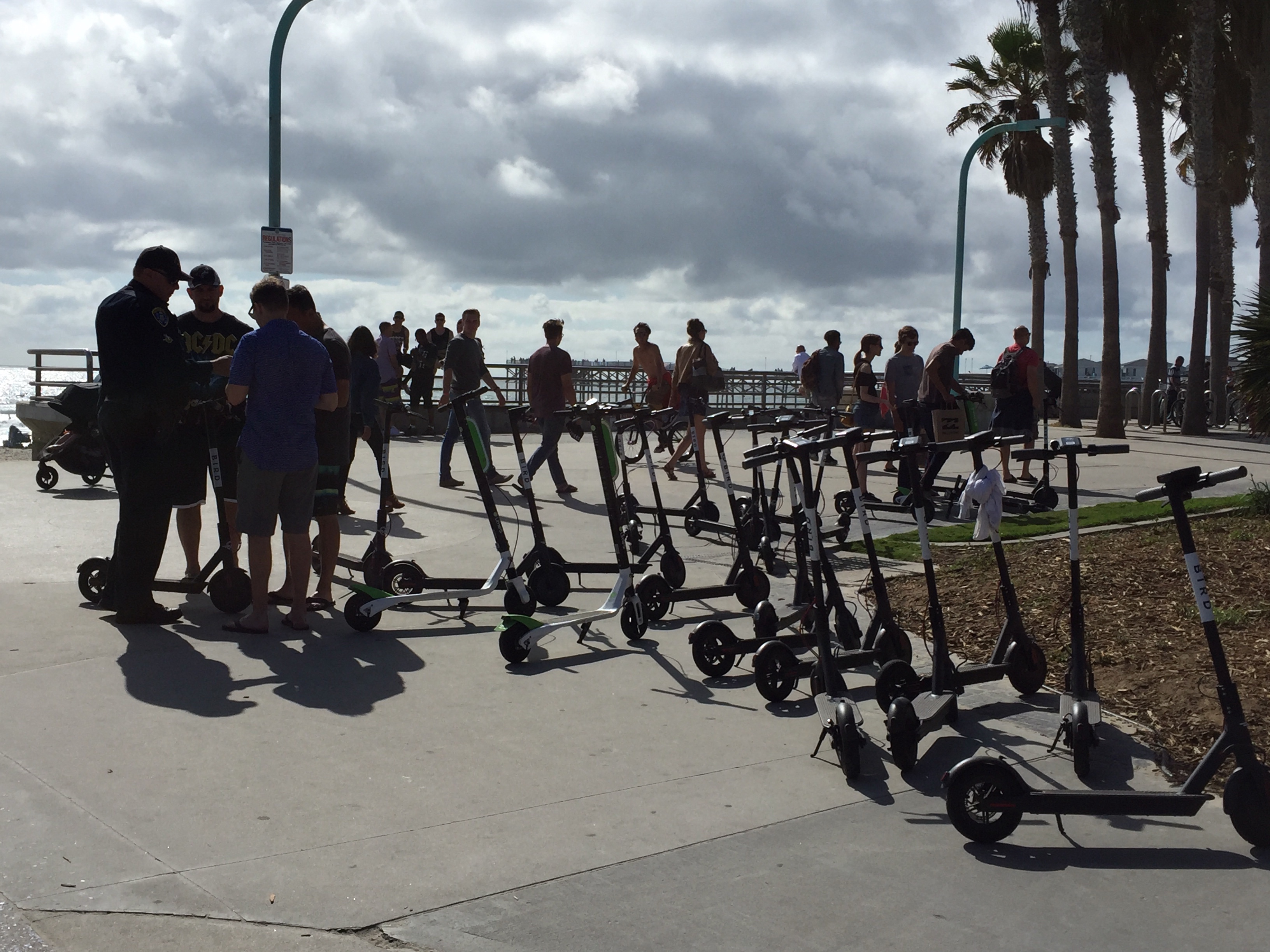 Updated: June 26th, 2018
Mother, daughter seriously injured in motorized scooter crash at Mission Beach when vacationers from Arizona were double riding on one scooter and not wearing a helmet.  The father says "It's obvious these things do not belong on crowded sidewalks", and pleads for city hall to reverse the decision not to ban the scooters from the Mission Beach boardwalk.
Original Story: Feb 10, 2018
Have recently spotted a random Lime scooter sitting agains the seawall with no owner in sight? It is very likely that scooter belongs to a new scooter rental service named Bird or Lime S Scooters. The scooters appeared on the boardwalk in the middle of January 2018. They are being used by locals and visitors on the streets of San Diego beaches and boardwalks.
The Lime and Bird scooter companies are well funded startups and are here to stay. Residents are concerned about their presence on the boardwalk due to speeding issues and use of public streets for scooter parking. Scooters can be left anywhere once done being used… wow! An epic battle will ensue and there is a possibility that Lime scooters will be outlawed for use on the boardwalk, thou it is hard to fight a well funded start up company that apologizes and pays fines over obtaining permits and following laws.
To rent the scooter you will download an app onto your phone and follow the instructions from there. The cost is very affordable for $1 rental, and 15 cents a minute at speeds of up to 15 mph to travel short distances.
Once a rider finishes riding the scooter, they can leave it and walk away. This is a reason for controversy around the scooters. In San Diego the scooters are being lined up around friendly businesses. But can also littler the streets with their presence.
Safety concerts include:
Double riding
The scooter is intender for one rider. Double riding is often spotted on the boardwalk. Sometimes the passanger is a young child, which can be considered child endangerment in some situations.
Right of way
On the sidewalk pedestrians have the right of way, but when scooters are passing pedestrians and bikes and going up to 16mph it creates a dangerous situation.  Motorized modes of transportation are not allowed on the boardwalk. Electric powered scooters are in a grey area.
Speeding
The scooters can reach speeds of up to 15 miles per hour. The speed limit on the board walk is 8mph. The biggest offenders of the speed limit are electric powered devices. But Traveling 15 miles is too slow for a roadway with cars and at the same time way too fast for any sidewalk.
Helmets
Riders are not equipped with helmets. Thou companies have offered to provide free helmets to uses. Another tactic that is not practical because helmets are mailed out to riders.
Drinking and riding a scooter is a DUI violation and police have been cracking down.
Use of Public Property
Because the scooters can be left anywhere after being used, the issue of use of public property comes up.  If a scooter is blocking a street pathway this is an issue, when scooters are deployed in a city they are left slightly out of the way but still on public property.  No one else can leave their property unattended without facing a fine of towing, so why should the scooters be any different.
Citations
Riders should be aware of citations. Police have start to target speed breakers as they endanger other boardwalk walkers, runners and children. We have yet to see a scooter going under the 8 mph speed limit. Citations are also being given for double riding, and riding without a helmet.  Some citations can be more than $300.
The scooters are available for rent in Pacific Beach, Venice and Santa Monica.  Read more:
What do you think of the Lime and Bird scooters on the Boardwalk?  Are they annoying or do you like riding them?  Leave your comments below now to be heard!